North Plains Elephant Garlic Festival is a juried event typically in the following categories:

Click here for 2016 Artisan Vendor List (page 1)

Click here for 2016 Artisan Vendor List (page 2)
Bath, Body and Candles
Ceramics/Pottery
Children's Items
Fiber Art
Gift Food
Glass
Home and Garden
Jewlery
Leather
Metal
Musical Products
Paintings/Drawings
Photography
Repurposed items
Wood
Please contact patti.funstinks@gmail.com for additional information.
Food Vendors
All booths must advertise and sell at least one garlic item.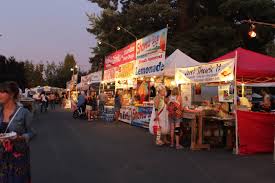 Food booths are required to meet all Washington County Health Department rules.
Please contact Festival Coordinator Patti for additional information.
General Rules
ALL VENDORS
1. All vendors must fill out the application packet from North Plains Elephant Garlic Festival and pledge to honor the rules and regulations of the North Plains Events Association.
2. All comments, questions, concerns, complaints during Festival time must be submitted to the Festival coordinator at the information booth in the Beer Garden area.  The Coordinator will have final say in these matters.
3. If any vendor violates a regulation or otherwise causes a disturbance, he or she will not be invited back.
4. Festival Coordinators have the right to ask Vendors to remove inappropriate displays, drinks or foods not listed on their application. Violating these rules could result in having your booth closed.
5. Gaming and entertainment displays must be approved in advance by the Festival Coordination.
6.  To participate, each vendor must commit to Friday, Saturday and Sunday. Vendors may leave their booths unattended or share times with others, but as a courtesy to other vendors, booths are not to be dismantled or removed before closing (6:00 PM) on Sunday.
7.  Booths must be ready to open by 12:00 noon Friday.
ARTS AND CRAFTS VENDORS
1. The following items are not allowed: Commercial items, wholesale items, knives, firearms, alcoholic beverages, and drug paraphernalia.
2. Baked goods and candies must be properly wrapped for sale.

3. New vendors must submit pictures of their merchandise. All items you will sell must be listed on your application.
FOOD VENDORS
1. Each food booth must have one menu item containing garlic.
2.  Food booths are required to stay open until 11:00 pm on Friday & Saturday unless prior arrangements have been made with the Festival Coordinator.
3. Each vendor is responsible for the proper disposal of trash and cardboard.
4. Food vendors must comply with Washington County Health Department Rules.
5. The Festival encourages a variety of food vendors. No duplicate booths will be allowed.  Chicken and pork can be presented many different ways. Sausages and hot dogs are considered different items.
6. Food sales must be kept and sold at the booth.  (Vendors are not allowed to sell else where on the festival grounds.)
7. Applications must accurately list equipment used.  Additional equipment such as refrigerator cannot be added later.